THE QUARTER BOX – The Super Cops #1
Today's Comic: The Super Cops #1
Publisher: Red Circle (Archie)
Price paid: Twenty-five cents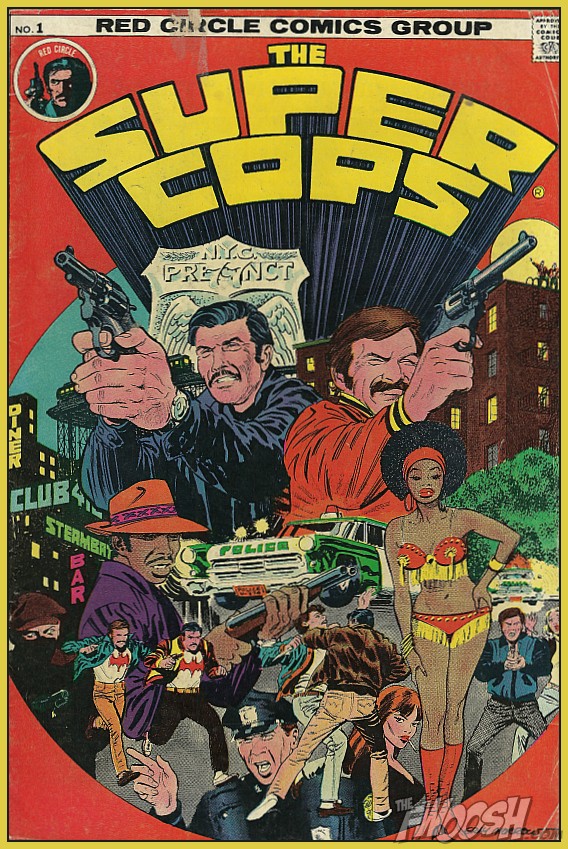 "Believe it or not, lady, we're cops!"
Why wouldn't you believe it? It was the '70s, and maverick cops were everywhere. You couldn't jaywalk without Baretta, Kojak, Ironside and McQ comin' out of the woodwork to bust you. Back then it seemed like everyone was a cop, and every cop had a gimmick — case in point.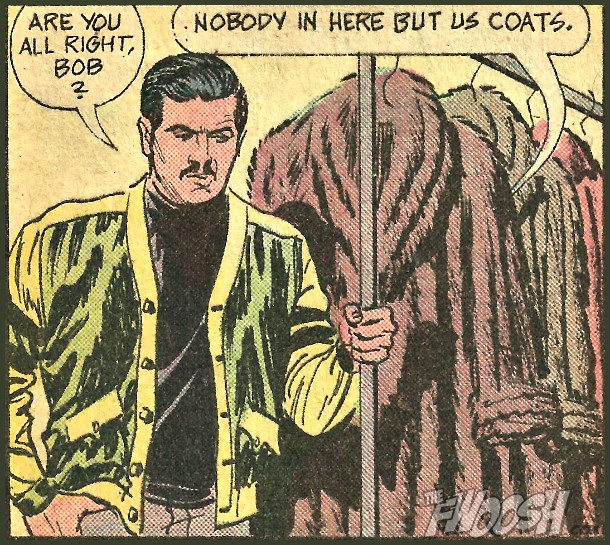 The Super Cops is the comic tie-in to a movie based on a book inspired by the "true adventures" of New York city policemen Dave Greenberg and Bob Hantz. As the story goes, Greenberg and Hantz were probationary patrol officers eager to clean up the mean streets of the Big Apple, and weren't going to let a little thing like not actually being cops yet stand in the way. In their off-duty hours, the duo cruised the worst precinct in the city looking for drug dealers, petty criminals and other assorted lowlifes to bust. In just four years on the force, Greenberg and Hantz had made over six hundred arrests, earning the nicknames "Batman and Robin" and enough notoriety to land book and film deals.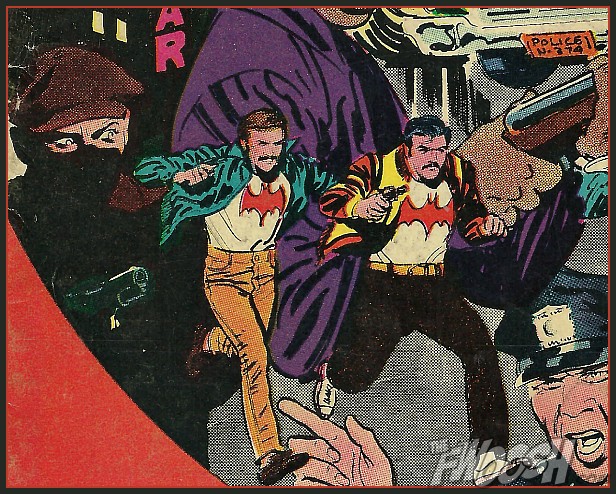 Red Circle's The Super Cops is not an adaption of the book or movie, but is instead four unrelated short stories and a text page, all written by Marv Channing. That should be plenty of room to develop our heroes personalities, right? Well, yes and no. Yes, it's plenty of room, but no, because the comic-book Greenberg and Hantz don't seem to have personalities. What they do have are mustaches, which makes telling them apart even harder.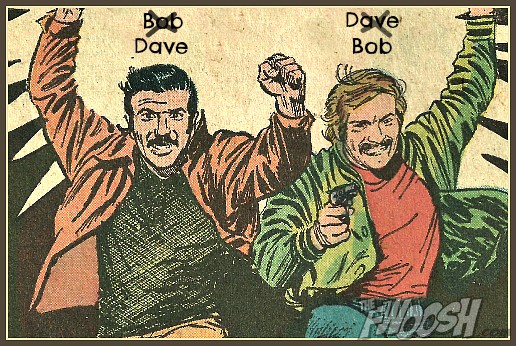 "Crime Is Out of Fashion!" finds our heroes on patrol in New York's legendary garment district, which is apparently crawling with thieves and pick-pockets. We're told early the Super Cops use "unconventional methods" to collar criminals and we don't have to wait long for an example. A wacky plan is hatched in which Bob will hide in a rack of coats and grab criminals as they run by. It sounds stupid, I know, but within seconds: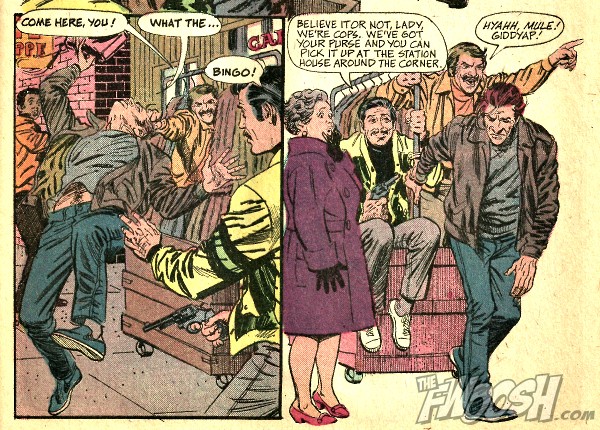 Emboldened, the Super Cops use an open truck filled with boxes to entrap an entire gang of thieves. Their "unconventional methods" have less to do with them being clever and more to do with criminals being rock-stupid. Catching them seems so effortless, you have to wonder wonder what the big deal about these two particular cops is. Well, other than the way their superiors look the other way every time they pull their bulls#!t: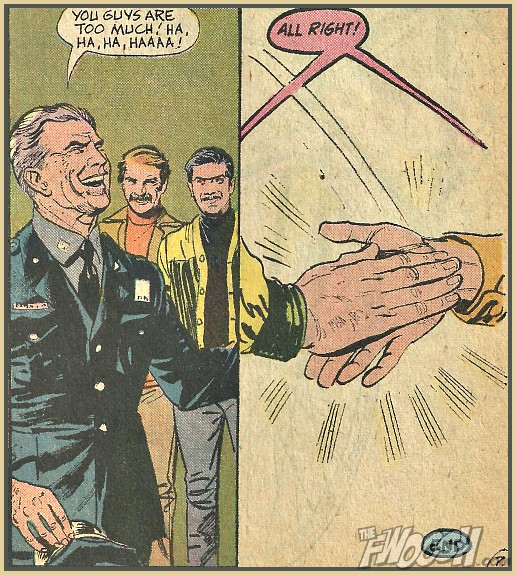 Wow, seriously? Okay, starting to feel uneasy about authority figures here, but let's move on. The second story, "Bedlam Beat" is an origin of sorts, with the frustrated duo making nuisances of themselves writing parking tickets until they're promoted to patrolmen. Johnny?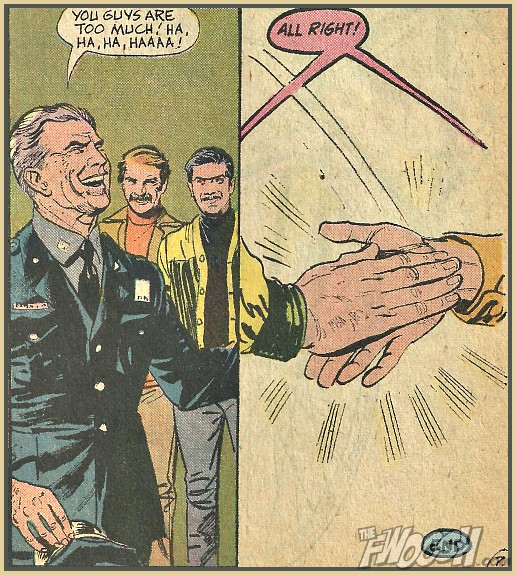 So you see where this is going. In "The Next Stop … the Cemetery", Greenberg and Hantz shake the junkie tree to see what falls out. Caught red-handed (throwing her stash out the window, no less) Joyce is willing to cut a deal.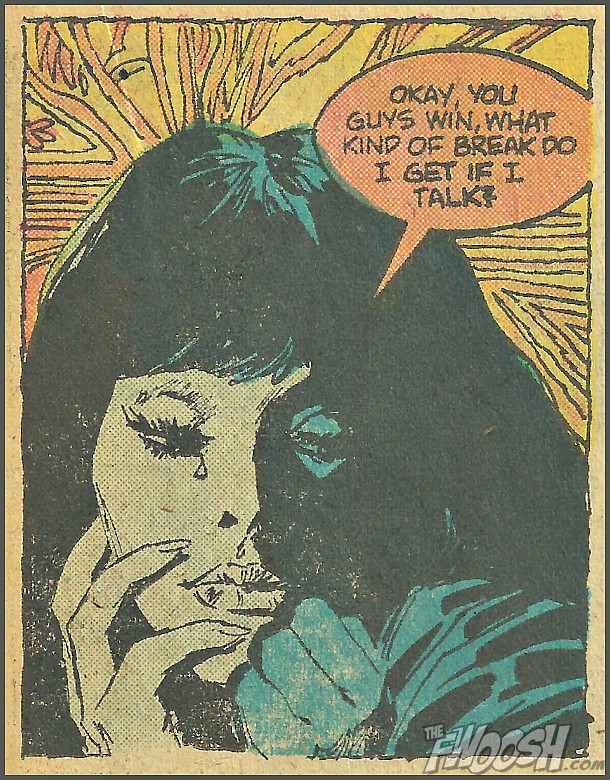 The Super Cops squeeze her for the name of her source, and Joyce sets up a meeting with her smack dealer in the subway at midnight. I guess they don't let her into the parking lot of Burger King anymore…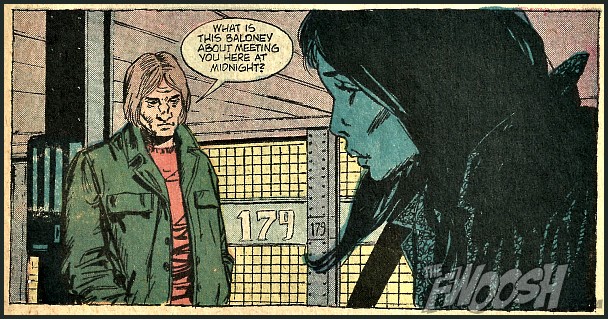 Our heroes chase the dealer onto the subway track; in spite of a lot of talk about the "third rail," the comic ends with no one being hurt… Well, except for Joyce, who was later stabbed with a sharpened chicken-bone while doing a nickel up in the State Pen. Super Cops!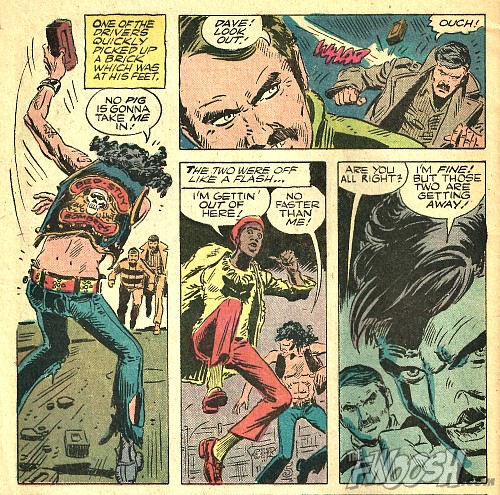 In "2 to Get Ready and 4 to Go!", Greenberg and Hantz set up an illegal drag race in an effort to track down some stolen cars. Here's where our heroes cross the line, going from well-intentioned but eager rookies looking to fight crime to jaded cops out to boost their rep by any means available.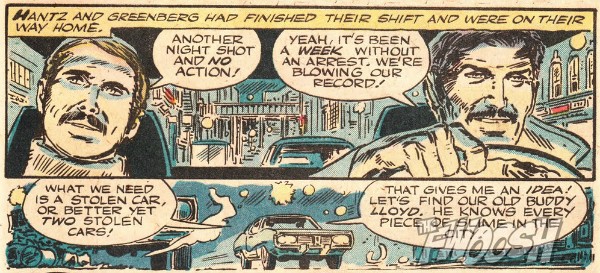 The Super Cops works better as a cautionary tale than the adolescent wish fulfillment it's meant to be. Intentional or not, there's an entire character arc here. In the beginning Greenberg and Hantz are idealistic newbs too blinded by ambition to follow the letter of the law. Soon, the duo are flirting with vigilantism and making passive-aggressive power-plays to unjustly move up in the ranks. Before you know it they are routinely abusing their positions, existing in a vacuum of authority and accountable only to themselves. Here's the result of their little unauthorized sting operation: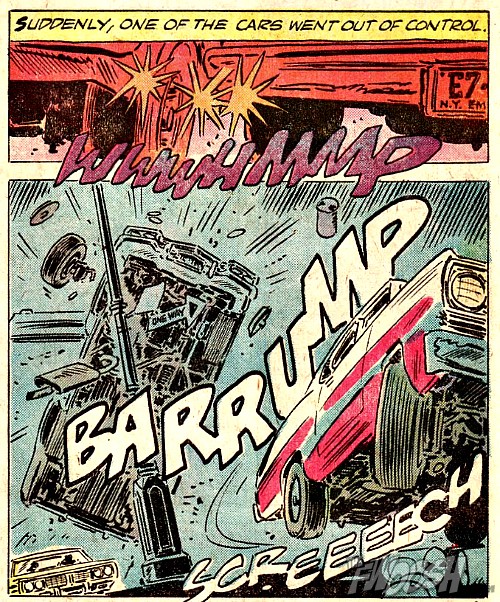 BARRUMP, indeed. The race Greenberg and Hantz engineer endangers both their suspects and anyone unlucky enough to be walking down the street. This all happened because they didn't want to go home after work. By the end of the comic you get the sense these "Super Cops" are more of a problem than the criminals they arrest.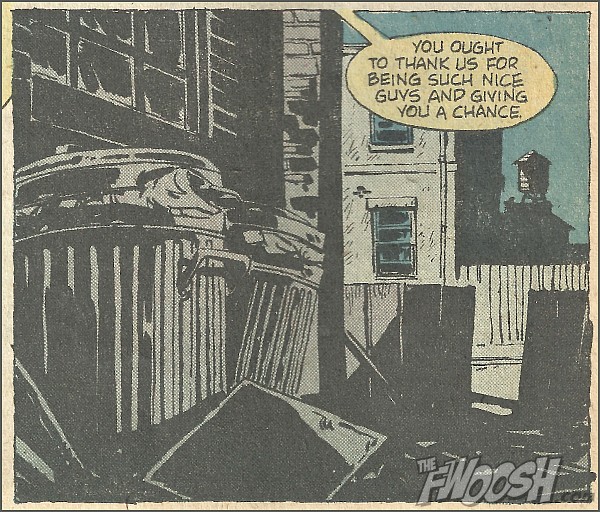 Yeah, thanks. Nice garbage, though. Seems like a good place to talk about the art. The first story features the workman-like pencils of Gray Morrow. It's not bad, but it lacks the sensibility Morrow showed on the cover. Two is a step down, with artist Carlos Pino committing the unforgivable sin of making the pictures as boring as the words. V. Hack does some nice work with what he's given in the third act, providing some lovely shots of sad blue women: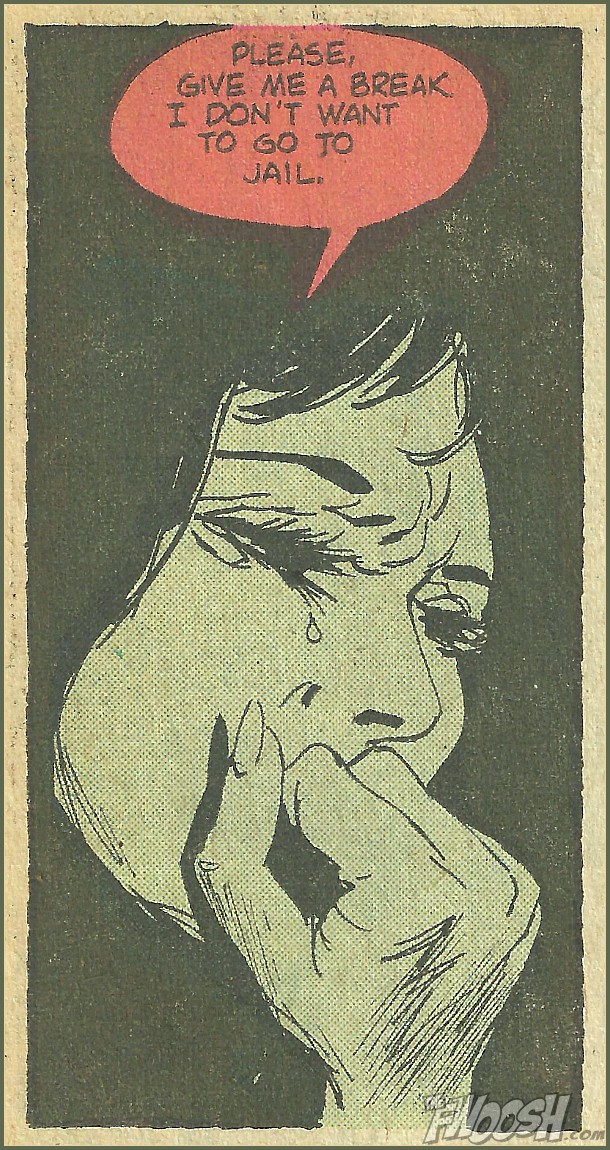 It's only in the last story that we get a sense of what the book might have been, with Frank Robbins delivering some frenetic, funky panel-work. Dig Robbin's discreet tribute to "Batman" and "Robin."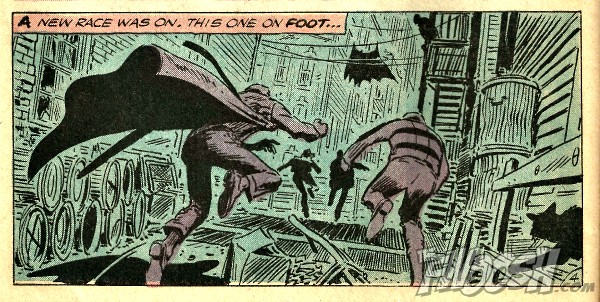 This is the closest the book comes to mirroring the awesome Gray Morrow cover, but it's too little, too late — there would never be a Super Cops #2 and Greenberg and Hantz would never see the interior of a comic again.
Or causing one. Each of these stories end with Greenberg and Hantz grinning as people are lead away in chains. Who did Red Circle think would relate to these ass-clowns? When one of your main characters holds a gun to a suspect's testicles to escape the wrath of an angry mob, you know you're on shaky ground calling the guy a hero. Ignoring departmental procedure and protocol, the duo "play it to a bust" at the expense of civil rights and due process. Lacking the craggy charisma of Dirty Harry or the simmering cool of Serpico, the Super Cops come off more like dickish tenth-grade gym teachers than the bad-ass cops they're supposed to be.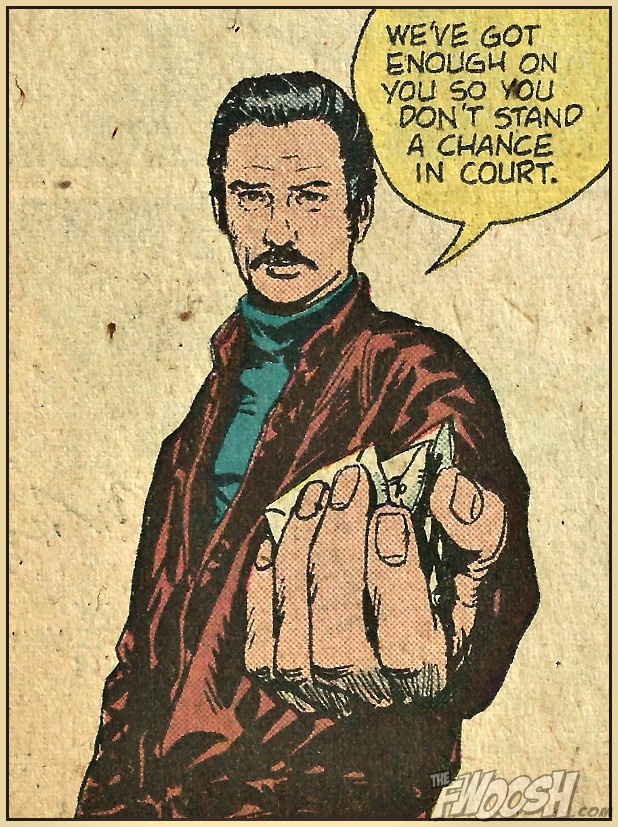 Life after comics wasn't all picnics and parades for the Super Cops. Dave Greenberg was jailed twice for white collar crime, while Bob Hantz was fired from the force after being accused of smuggling marijuana. Whoops! And how did the world react when "Batman" and "Robin" were shown to be law-breaking hypocrites?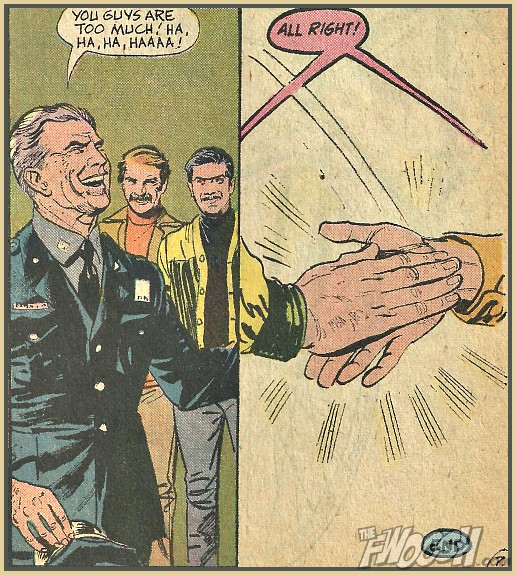 Right!
Jason R Mink is the Man in the Anthill!